PAPER EXCHANGES
15-minute collaborative papers: research & practice concerning didactic, pedagogic and
epistemological questions around de-fashioning education to inspire collaborative research and action
PAPER EXCHANGE
Friday, 15 September 2023, 11:30AM – 1:30PM (CEST) HYBRID @ STR Auditorium R401 – streamed

RE-ALIGNING FASHION EDUCATION – COMMUNITIES, CRAFT, CARE
THIS PAPER EXCHANGE IS KINDLY FACILITATED BY ANTONELLA GIANNONE. Antonella Giannone, Dr phil, is Professor of Fashion Theory, History and Sociology of Clothing at Wei.ensee Kunsthochschule Berlin. Previously, she taught as an adjunct lecturer at the "Scienze e Tecnologie della Moda"faculty of the University of Bari (Italy). She did her doctorate at the Technical University of Berlin in the department of Semiotics, focusing on the topic of Clothing as a Sign. Antonella Giannone is the author of numerous publications in the fields of fashion theory, cultural studies and semiotics of clothing and bodies in different social contexts.


FASHIONING OUR FUTURE THROUGH REWILDING EDUCATION: AN INDIGENOUS PERSPECTIVE
Tukahia Ngataki & Karishma Singh Kelsey (New Zealand)
This presentation advocates for integrating indigenous knowledge systems, particularly focusing on Matauranga Maori wisdom, into business and fashion education. It proposes that instead of searching for new business models, we can learn from indigenous cultures' proven successes in overcoming crises. By embedding indigenous wisdom into core frameworks and assessment criteria, we can unify environmental and business sustainability in companies. The presentation emphasizes the need for cultural responsiveness, multiple voices, and earth-logic consciousness in business and design education. It explores the transformative impact of embracing the role of "kaitiaki" (guardians of the earth) and presents case studies involving high school students, whilst also addressing the challenges of dismantling traditional enterprises and embracing indigenous perspectives.
DECOLONIAL DESIGN EDUCATION IN CULTURALLY DIVERSE ECOSYSTEMS Laya Chirravuru & Akshita Gangwal & Zakiya Adil Khatri (Germany/India)


Discussing de-growth and sustainable design practices in the Indian context emphasizes the country's rich heritage of handmade textile crafts. But largely in the mainstream fashion industry, there has been a tense dynamic between the "designer" and the "craftsperson". Highlighting the socio-cultural diversity within the network of thinkers, makers, creative communities, innovators, and entrepreneurs, this collaborative paper dives into the 'alternative' pedagogical approaches that offer decolonial design thinking critical to India. Structured as a talk between 3 designers from distinct fashion/design institutions, this presentation unpacks the coexisting modes of professional learning in the country that adopt a culturally holistic knowledge exchange.

LIFE AFTER LIFE Rishab Manocha (India)

Imagine if we could all learn to repair, trade, and give to a clothing library so that others might use them for free. Academicians believe degrowth, the deliberate slowing of economic growth, and the introduction of new materials are solutions proposed by global institutions in an effort to effectively combat the climate catastrophe. Yet, this requires the use of modern resources. This study considers three case studies to make the most of the resources already available to Indian textile manufacturers so that they can increase the value of their textile scraps through upcycling.
EXTRA-PEDAGOGY: CONNECTING TO COMMUNITIES VIA INDEPENDENT STUDY COURSES AND RESEARCH MENTORSHIPS
Marie Genevieve Cyr & Giannina Gomez & Gigi Gomez & Constanza Orlowski
& Yetunde Saap (US)

Teaching can foster meaningful interdisciplinary collaborative projects.
By encouraging students to not only collaborate with their peers but externally,
we can teach and build important professional and meaningful relationships. Over the past few years, I noticed the potential of new forms of learning via Independent Study courses and Research Mentorships. Three BFA Fashion Design students' research projects will be presented as case studies.


PAPER EXCHANGE
Friday, 15 September 2023, 3:00 – 5:000PM (CEST) HYBRID @ STR Auditorium R401 – streamed
RE-CONNECTING FASHION
EDUCATION–DE-CENTERING, COLLABORATION,CIRCULARITY
THIS PAPER EXCHANGE IS KINDLY FACILITATED BY ERICA DE GREEF.
Dr Erica de Greef is a curator, author and co-founder of the African Fashion Research Institute. She works collaboratively to promote redress and invite the decolonial (re)imagination of contemporary African fashion, with projects spanning museums, creative platforms, educational institutions, and grassroots spaces. She has lectured and published widely, and is currently a Research Fellow with UNISA, South Africa.
DEVELOPING A DECENTRALISED FASHION SYSTEM: A VISION FOR EDUCATION
Jennifer Barrett & Gayle Cantrell (UK)

As educators located in the Northeast of England, we believe in the value that creativity can bring to local communities. Our belief is that degrowth can be brought about through decentralisation; that redistribution accordingly to regional specificity can support a more responsible fashion system that begins with pre-16 education, bringing together schools, HE, community groups, SMEs and industry partners, to support creative local growth and holistic working practice. Our paper will reflect on our experience of outreach projects, and our aim of creating a strategic and collective way of working to enhance this work and embed it into a sustainable framework.
TRANSITION FROM SUSTAIN-ABLE TO A RESPONSE-ABLE FASHION PARADIGM IN FASHION EDUCATION
Şölen Kipöz & Filiz Özbengi Uslu (Turkey)

The paper presents research on fashion design studio projects on exploring a circular and responsible fashion system. The circular design paradigm illustrated three reflections of collaboration; design with nature, design with society, and design with industry, and was presented through fashion films and new digital technology with the department of cinema and digital media. The responsible fashion paradigm, on the other hand, is developed to counter vital and social vulnerabilities created by global crises and recently occurring natural disasters in a restorative and transdisciplinary practice. Through these projects more inclusive and democratic access to clothing in fragile communities threatened by climate injustice, colonialism, displacement, and social disintegration is sought. Also through the use of activist design methods key concepts of degrowth and slowness to rebuild our relationships with clothes along the lines of transparency, fairness, and justice are explored.
WHY REFASHION? FASHION, POETICS AND HYBRIDIZATION OF CREATIVE METHODS FOR A SUSTAINABLE FUTURE
Desamparados Pardo Cuenca & Macarena Sánchez Balbuena & Úrsula Suarez Bazo & Ana Villamil Guerrero (Spain)

The paradox of fast fashion and the pursuit of modernity, along with the need to care for the earth's resources in a sustainable manner that includes social, economic and environmental impacts, is a difficult dilemma whose approach mostly focuses on a post-environmentalist domestication and renaturalization perspective, which is postulated in a false green industry and education model. This research explores the design process with an extended sustainability-centered approach, recreating itself in the application of collaborative and decolonizing methodologies for education with a human-nature center design approach (HNCD). We propose a new conceptual educational model centered on extended sustainable growth.
DE-COLONIZE AND DE-FASHION: DO TWO NEGATIVES MAKE A POSITIVE?
Benjamin Wild (UK)

The presentation seeks, first, to question the language used by academics to understand fashion's social and political influence – in particular, the concepts: de-fashion, de-colonize, and de-center. Second, to advocate for a critical awareness of the dynamic role of the past in shaping people's conception and consumption of fashion. Repudiating the 'western'-centrism of the fashion industry and fashion education, de-fashion and de-colonize imply social structures and the ideas that galvanize them can be either/or; separable, replaceable. However, the impact of Covid-19, culture wars, and the reinvigorated woke movement demonstrate that people's interpretation, and use, of culture and history, are contingent, complicated, and contradictory. Consequently, I advocate for a both-and approach when discussing human social relations and their expression through dress, arguing that de-centralization is more likely to achieve the 'pluriverse of clothing systems' that are sought by de-fashion advocates.
PAPER EXCHANGE
Saturday, 16 September 2023, 11:30AM – 1:30PM (CEST) HYBRID @ STR Auditorium R401 – streamed

RE-STRUCTURING FASHION EDUCATION - CURRICULA, INSTITUTIONS, STRATEGIES
THIS PAPER EXCHANGE IS KINDLY FACILITATED BY ANGELA MCROBBIE. Angela McRobbie is Emeritus Professor at Goldsmiths University of London. From the mid 1970s when she studied under Stuart Hall at the Birmingham University Centre for Contemporary Cultural Studies she has undertaken research on girls' magazines, youth cultures, gender and sexuality, feminist theory and work and employment in the creative industries. A good deal of her work is also translated into German (eg Top Girls of 2010 with VS Verlag and 2023 E-Buch von Tatjana Turanskyj.) She is currently completing an edited book about the Berlin artist and film-maker Ulrike Ottinger to be published in 2024. Angela lives in Berlin and London.
INTERSECTIONAL PRAXIS FOR FASHION EDUCATION: NAVIGATING THE COMPLEXITY OF INSTITUTIONAL CHANGE
Ben Barry & Luciana Srutchen (US)

Social justice in fashion education can only be achieved by implementing strategies that recognize intersectionality and center the needs of the most excluded members at a structural level. We illustrate how intersectionality has informed our strategies to reorient our curriculum and culture in Parsons School of Fashion—through the lens of strategic visioning, teaching and learning, student and alumni access, and intentional faculty recruitment. We also detail the challenges we have faced from the legacy of fashion education, and the context of being located in a predominantly white, American private university. Our paper offers a roadmap to navigate institutional transformation through the praxis of intersectionality.
EXPLORING EDUCATION FOR SUSTAINABLE DEVELOPMENT (ESD) IN FASHION DESIGN STUDIES IN GERMANY AND IRAN — A COMPARISON
Hanieh Choopani & Martina Glomb & Anne Marie Grundmeier (Germany)

A systematic literature review and also qualitative research such as expert interviews with lecturers and a comparison of the fashion design curricula of two universities in Iran and universities in Germany have been conducted. The two universities in Tehran are leading in the field of fashion design studies in Iran. The universities in Germany have been selected because they implement sustainable strategies in their fashion design. The following research questions shall be answered: 1) which sustainability aspects are already implemented in the academic curricula for fashion design and 2) to what extent ESD is applied? The research contributes to an understanding of ESD as a didactic approach and its implementation in fashion design studies.
A CROSS INSTITUTIONAL EXPLORATION OF STUDENT EXPECTATIONS OF SUSTAINABILITY IN THE FASHION CURRICULUM
Corinna Joyce & Noorin Khamisani (Vietnam/UK)

An exploratory research project initiated by two fashion educators working in separate universities in the UK and Vietnam seeks to uncover student perceptions regarding the fashion curriculum, specifically through the lens of sustainability. Fashion education has an important role to play in contributing to the transformation of the industry, perhaps even de-fashioning the way we teach? But in this process, we inevitably make assumptions about what our students want and what they care about. Adopting a qualitative mixed methodology, a survey is completed by cohorts at the two universities. This collaborative cross-institutional and cross-continental research can be shared to offer valuable inspiration for fellow fashion educators globally.
NEW SYNERGIES THROUGH THE INTERLINKING OF PREVIOUSLY INDEPENDENT UNIVERSITY STRUCTURES
Magdalena Kohler & André Matthes (Germany)

In the future, we will increasingly work with recycled fibers, or we will have to transfer the newly produced clothes into further recycling cycles and thus already consider the following recycling steps during production. This step can hardly be implemented without technological knowledge. If we think about the existing knowledge of the University of Technology and the University of the Arts and combine the different fields of education to a greater extent, we will be able to design in a more appreciative way. The future goal should be to strengthen our existing resources and structures by sharing them.
PAPER EXCHANGE
Saturday, 16 September 2023, 3:45 – 5:45PM (CEST) HYBRID @ STR R003 – streamed

RE-DESIGNING FASHION
EDUCATION –METHODS, MATERIALS, PROCESSES
THIS PAPER EXCHANGE IS KINDLY FACILITATED BY SAVITHRI BARTLETT.Dr Savithri Bartlett has 20 years' experience as Designer, Academic, Researcher. Her recent work as Project Lead at the Institute of Positive Fashion, British Fashion Council, involved mitigating clothing returns. A link to the report is here. Her current research focuses on the Global South threatened by exploitative models of clothing and food production.
DISRUPTING THIN NARRATIVES: CREATING STUDENT DESIRE FOR FAT FASHION
Emily Huggard & Leila Kelleher (US)

Fashion schools are complicit in perpetuating the dominance of small sizing and the "thin ideal". Within the current context, how do we foster desire and intrinsic motivation in students to design for and create imagery and communication strategies featuring Fat and plus-size bodies? In this presentation we will discuss how we have begun to build this foundation, starting with the learning cultures utilized within the Fat Fashion and Fashion Collaboration electives, as well as the wider support, research, and industry collaborations that we are developing in the Size Inclusion in Fashion research lab at Parsons.
EXPRESSIONS OF DISCARDED DESIGN DECISIONS AS A REFLECTIVE TOOL TO RETHINK FASHION EDUCATION
Karin Landahl & Stefanie Malmgren De Oliveira (Sweden)

"Ours is a culture based on excess, on overproduction; the result is a steady loss of sharpness in our sensory experience. (...)" (Sontag, 1966) In excesses of garment waste a search for value and meaning is needed. Waste as a material, not to re-design, but to dissect, examine, analyse. To see, imagine, speculate. This research explores the possibilities to rethink fashion design education through the lens of discarded design decisions. The result is a reflective framework that aims to train and recover our senses and develop a greater awareness of the implications of our design decisions their values and meaning.
GESTURAL DESIGN: FASHION DESIGNED BY THE WEARER
Monica Jae Yeon Moon & Muyo Park (UK)

This research problematizes the hierarchy that exists between the maker and the wearer in the elite fashion education system, which presupposes a singular designer's linear creativity. It achieves so by historicizing the notion of authorship as a source of creativity in Western fashion that prioritizes the experience of a maker over the wearer. As an intervention in the fashion design process, this research will identify and explore wearing as a design process through experimental performances, which acts as an alternative source of learning where one can observe the overlooked possibilities of silhouettes and movements that are directly related to materiality and techniques of fashion.
REVISITING THE ARCHIVE: A TOOL FOR INNOVATION AND REFLECTION IN FASHION EDUCATION
Lars Paschke & Pierre-Antoine Vettorello (Belgium/Germany)

Fashion educators face a challenge: preparing students for the industry while questioning its exclusionary and exploitative practices. Can they simultaneously be both enthusiasts and killjoys? This paper explores fashion education's use of archives to foster critical reflection and challenge established norms. By incorporating Azoulay's call for potential history, educators can inspire students and seek to change the canon of fashioning, inviting new perspectives beyond Eurocentric periods and established names. The aim is to dismantle the traditional framework that reinforces capitalist and patriarchal structures, allowing for fabulated and decolonial viewpoints. This presentation discusses processes and steps taken in the classroom to reshape the canon.
THE SPEAKERS

Credits:
Stini Röhrs
Lars Paschke
is a professor for Fashion Design at Burg Giebichenstein University of Art and Design, Halle. After graduating with a Master's degree from the Antwerp Fashion Department, he has taught at Berlin University of the Arts and worked on interdisciplinary and collaborative projects together with e.g. Arielle de Pinto, Zuzanna Czebatul, Planningtorock, and Goetze.
Credits:
Pierre-Antoine Vettorello
Pierre-Antoine Vettorello
is a PhD researcher exploring the intersection of fashion and decoloniality in both France and Senegal. He is teaching methodology at the Royal Academy of Fine Arts' knitwear masters department in Brussels and Istituto Marangoni in Paris. He holds an MA in fashion design at the Antwerp Fashion Department and an MA in Artistic Research at Sint-Lucas Antwerp.
Tukahia Ngataki is of Maaori descent native to New Zealand and is a descendant of Ngati Tamaoho, Ngati Amaru, Ngai Tuhoe, Ngati Maniapoto, and Ngai Tai ki Tamaki tribes in New Zealand. He was born into the teaching of his elders and is passionate about his history and whakapapa (genealogy). He has worked in various areas of the New Zealand education system for over 20 years. As a scholar and keeper of the Maori Tikanga, when asked to support any kaupapa he always adds his own perspective from his teachings. Ngaa mihi.


Credits: Keshav S Krishna
Karishma Singh Kelsey is an educator, scholar, designer hybrid whose micro social enterprise, Karishma Design, has worked disrupting the fashion industry through a post-growth systems thinking lens rooted in indigenous wisdoms. Having lived and worked among craft and artisanal wares, her research focuses on implementing indigenous wisdoms frameworks into education to foster ethically focused future leaders. Her current work in style activism promotes a paradigm shift towards defashioning through conscious connections to self. Karishma also teaches style activism, entrepreneurship, and sustainable design innovation to secondary and tertiary students in Aotearoa.


Credits:
Ahmed Essam
Laya Chirravuru
is a design researcher with a background as a fashion designer, specializing in creating social design strategies to support the fashion and lifestyle industry through research for sustainable impact. She is invested in examining the nuances of cultural sustainability within the textile craft ecosystems of South Asia. She is an alumnus of the Bauhaus Dessau Foundation, in Germany.
Credits:
Vaishali
Akshita Gangwal
is a craft textile designer focused on the field of Revival and Research through multiple Indian craft projects. She has worked extensively in promoting the tribal Kasota weave of Gujarat, the Rathwa bead jewelry, Batik prints, and natural dyeing. After Graduating from the Indian Institute of Crafts and Design, Jaipur, she founded Aakaar – a brand supporting local artisans for design and capacity building.
Credits:
BairajByZakiya
Zakiya Adil Khatri
is an artisan designer, and a 4th generation Bandhani artisan from Bhuj, Gujarat, India. She has given lectures in Peru, and Wisconsin, USA. She studied design at Kala Raksha Vidyalaya and business management at Somaiya Kala Vidya, Kutch. Taking forward the craft's heritage, she has co-founded Bairaj – a brand focused on encouraging women artisans to create Bandhani textiles.
Dr. Rishab Manocha has over 25 years' experience in Fashion Education, Rishab has worked, with some of the most coveted Institutions in U.K and India. An alumnus of the prestigious Central Saint Martin's College of Art & Design, London, he has worked in the British education industry for 10 years. He has also worked at the British Council Social Services in providing art education to adults with learning disabilities. In 2015, Rishab re-launched his hand-painted ceramics brand called 'Vanitas Collections' and is currently employed as an Associate Professor at Pearl Academy, Jaipur, India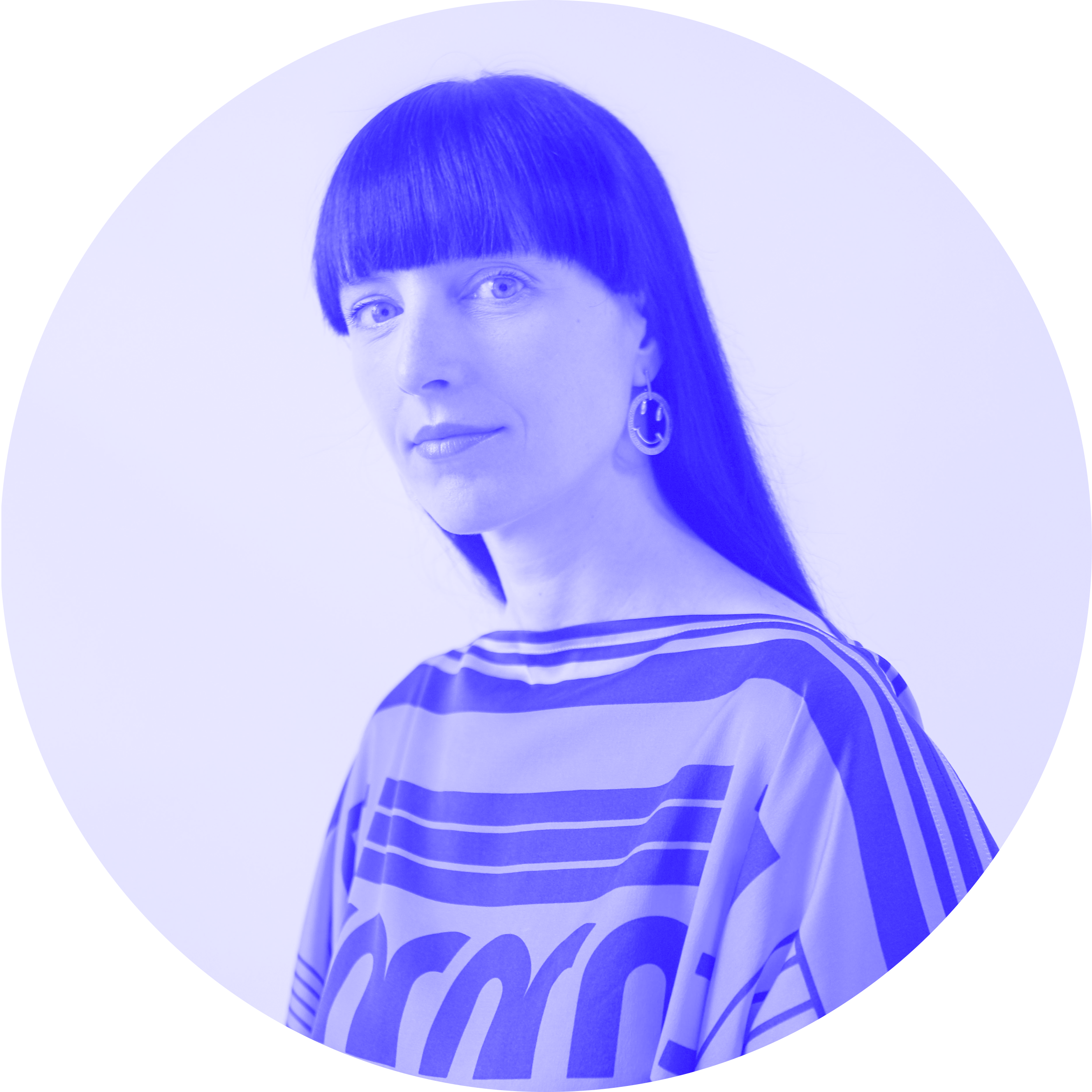 Credits:
Joseph Jagos
Marie Genevieve Cyr is the Director of the BFA Fashion Design program and an Associate Professor of Fashion Design at Parsons School of Design. She has an MA in Visual Culture from New York University and a BA in Design and Applied Arts from the Edinburgh College of
Art. Her research examines the politics of abstract desire, hyper-reality, hyper-consumption, and the Intern.
Credits:
Gayle Cantrell
Gayle Cantrell
is Programme Leader and Assistant Professor on BA (Hons) Fashion Communication at Northumbria University. Her research covers the shifting fashion landscape, and how live and digital experiences can change the way we think about clothes. She has worked with industry partners, educational outreach programs and local authorities on projects exploring the opportunities for creative collaboration across sectors.
Credits:
Katie Lee
Jennifer Barrett
is Assistant Professor of Fashion Communication at Northumbria University and founder of This is Creative Enterprise (TICE), an organization that designs projects and programs whereby young people and schools can explore opportunities in commercial creative, design and digital industries.
Şölen Kipöz produces publications on fashion studies and conceptual design works on ethical, social and sustainable fashion. Her collective books Sustainable Fashion (2015) and Slowness in Fashion (2020) have been influential in the path of creating awareness on slow and ethical fashion in Turkey. Her conceptual and ethical design exhibitions present the paradigms of slow, circular, and collaborative design practice.



Filiz Özbengi pursued her interest in fashion after earning her first bachelor's degree from Social Anthropology, by studying Fashion Design. She had expertise in a variety of fields after earning her degree in fashion design specialty, including costume design. Since 2022, she has been working as a research assistant in the Department of Textile and Fashion Design at Izmir University of Economics. Her research areas are circular design, design with living organisms, and design for emotional attachment.


Credits:
Desamparados Pardo Cuenca
Desamparados Pardo Cuenca is an international fashion designer specializing in the field of collaborative and sustainable fashion design. Her works as a teacher from the year 2005 at the EASD in Valencia culminated in 2014 with the award of the official master of "Fashion Co-Design and Sustainability".Desamparados is the director of the nominated master's degree responsible for coordination, creative management and scientific research of projects, which integrate the procedures of the circular economy. Desamparados Pardo has consolidated the research group "Fashion Design, Commitment and Good Practices: Methods, Instruments and Contexts ofaction".


Benjamin Wild is a cultural historian. His work understands history as a dynamic role within people's lives, informing their values and behaviors. He is interested in themes of human identity and marginality; how these are shaped by the past and conveyed through material culture, particularly dress. Wild's book Hang-Ups: Reflections on the causes and consequences of fashion's 'western'-centrism (Bloomsbury) is published in January.
Credits:
Ana Villamil
Ana Villamil is an international student of Master in Fashion Co-Design and Sustainability in EASD from Spain. She is specialized in this area.



Credits: Úrsula Suarez
Úrsula Suarez is an international student of Master in Fashion Co-Design and Sustainability in EASD from Spain. She is specialized in this area
Credits: Macarena Sánchez
Macarena Sánchez is an international student of Master in Fashion Co-Design and Sustainability in EASD from Spain. She is specialized in this area.
Credits:
Kendall Meleski
Ben Barry
(he/him) is a fashion educator, designer-researcher and academic leader who is devoted to equity, inclusion and social justice in fashion education and the fashion industry. Named to The Vogue Business inaugural "100 Innovators" list, he is Dean of Fashion and Associate Professor of Equity and Inclusion at Parsons School of Design in New York City. His teaching and scholarship centers the intersectional fashion experiences of disabled, fat, trans and queer people and engages them in the design of clothing, fashion media and fashion systems. He holds an undergraduate degree in women and gender studies from the University of Toronto and a PhD in Management from Cambridge University.
Credits:
Marketing & Communication, The New School University
Luciana Scrutchen (she/her), textile designer and educator, is an Associate Professor of Fashion and Associate Dean of Parsons School of Fashion at The New School University. Her teaching and research centers the voices, experiences, and vantage points of Black women across lines of sexuality, gender identity, color/complexion, and class. As well as investigates textiles and technology's role in subsistence cultures, focusing on sustainable materials, new processes, and methodologies that support global health. Scrutchen received her MFA in Design & Technology from Parsons School of Design and BFA in Weaving & Textile Design from Rochester Institute of Technology.
Credits:
Martin Albermann
Hanieh Choopani
is a PhD candidate in the field of sustainable fashion education (funded by the DAAD) at Freiburg University of Education and University of Applied Sciences and Arts Hannover (HSH). In addition to being a research assistant in the USE-LESS team at HSH, she is a member of the Sustainable Fashion Consumption Network.
Credits:
Anne-Marie Grundmeier
Anne-Marie Grundmeier
is a Professor in the field of fashion, textile sciences and its didactics at Freiburg University of Education, Head of the Department of Fashion and Textiles and the Institute of Everyday Culture, Sport and Health. She holds a Ph.D. in economics. Her research interests are fashion and textile sciences with an emphasis on Education for Sustainable Development, (inter-)cultural and vocational education.
Credits:
Tom Wesse
Martina Glomb
is a professor of fashion design at the University of Applied Sciences and Arts in Hannover, Germany. She specializes in design methods with a focus on slow fashion and sustainability in teaching, research, and transfer. As founder of the USE-LESS Centre for Sustainable Strategies, she has initiated various interdisciplinary projects and exhibitions with universities and practice partners, aiming to merge science, education, and design.
Credits: Alice Whitby
Noorin Khamisani
is a fashion design educator with a decade of professional practice in Europe who has lived and taught internationally. Her work is focused on fashion design for sustainability, informed by decolonial and digital approaches. A key theme in her teaching is her challenging the current system and encouraging students to reimagine the future of fashion design.
Corinna Joyce is a fashion educator in both design and fashion business. Her teaching is informed by her practice as a product developer and start-up consultant in Europe, the Middle East, and Asia. Corinna's work and teaching are centered around challenging the contemporary global fashion system to develop models for de- and post-growth consumption habits and enterprise solutions.


Credits:
Miriam Lehnart
Magdalena Kohler
is a PhD candidate on recyclable wool blend fibers at the TU Chemnitz since 2021. She is the founder of a technology-based knitwear label focusing on regional on demand production. She studied fashion design at the Berlin University of the Arts where she has been working as an artistic tutorial assistant since 2017.
Dr. André Matthes'
textile expertise covers textile material analysis, machine development, and process analysis in the whole textile process chain. In recent years, he has increasingly devoted himself to the issue of textile sustainability. In particular, the integration of sustainability aspects into university teaching events and the dissemination of textile sustainability and digital education topics
Credits:
Leila Kelleher
Dr. Leila Kelleher
is an Assistant Professor of Fashion Design and Social Justice at Parsons School of Design. She works at the intersection of fashion and biomechanics using an interdisciplinary approach to optimize fashion design for Fat and plus size-bodies. Leila is the co-founder of the Size Inclusion in Fashion Lab and her book on plus-sized patternmaking will be published in 2024.
Emily Huggard
is an Assistant Professor of Fashion Communication at Parsons School of Design and author of the book Communicating Fashion Brands: Theoretical and Practical Perspectives. Her research explores the definition of brand experience in the epoch of digital fashion and post-consumerism, and fashion brand communication as a cultural process that shapes and reframes cultural attitudes and contests ideologies. Emily continues her practice as a brand consultant, strengthened by her experience developing strategic fashion communication, marketing, and brand strategies.
Credits:
Jan Berg
Dr. Stefanie Malmgren de Oliveira
is a senior lecturer and researcher in fashion and textile design at The Swedish School of Textiles, University of Borås, Sweden, where she completed her practice-based PhD in fashion design. Current research investigates garment-based learning methods and design pedagogies for sustainable futures in higher education.
Credits:
Otto Landahl
Dr Karin Landahl
is a senior lecturer and researcher in fashion and textile design at The Swedish School of Textiles, University of Borås, Sweden, where she completed her practice-based PhD in fashion design. With a background in knits, her current research investigates garment-based learning and design pedagogies for sustainable futures.
Credits:
Haeun Kim
Muyo Park
is an MA Fashion student at the Royal College of Art London. He studied Textile Arts and Fashion Design at Hongik University, Seoul. As a fashion student, he endeavors to develop an alternative fashion design process that holistically encompasses the wearing processes. His approach acknowledges the significance of the worn experience as much as the visual appeal of the dress.
Credits:
Sanghyun Lee
Monica Jae Yeon Moon
is a writer and researcher enrolled in the V&A RCA History of Design MA program, under the patronage of Korea Institute of Design Promotion and Kwanjeong Educational Foundation. Previously she studied Fashion Studies and French Literature at Seoul National University. She currently is an online editor at Vestoj and her writings have been published by 1Granary and Design History Society blog.